This Ridiculously Simple "Chocolate Salami" Is My Go-To Dessert When The Weather Gets Uncomfortably Warm — Here's How To Make It In Just 10 Minutes
To all the dessert people out there who hate baking: This one's for you.
When I was a kid, there was nothing I loved more than heading to a local Portuguese pastelaria and marveling at all the goodies behind the glass case. These cafés were always unassuming, serving up the tried and true classics while locals sat in the same seat for hours sipping espresso. And while I could write several posts dedicated to each and every one of my favorite Portuguese snacks and pastries, there's one that will ALWAYS catch my eye in that glass case: salame de chocolate (otherwise known as chocolate salami).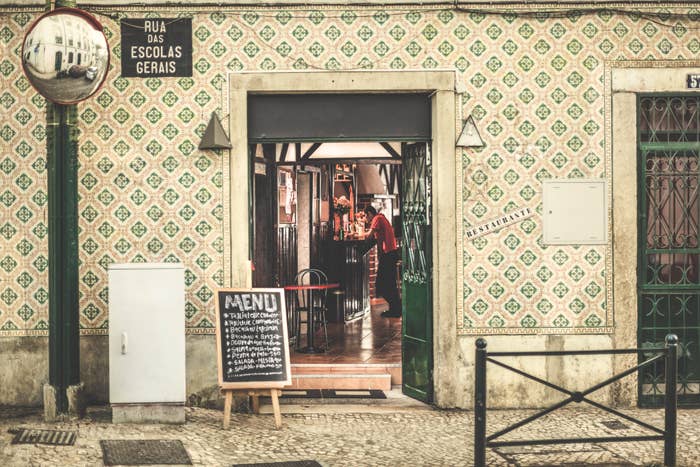 The first time I told my friends I would make this for them, I naturally got a big WTF reaction when they thought I was going to essentially melt a chocolate bar atop some deli meat. So, let me just say right off the bat: That's absolutely NOT what's going on here. Chocolate salami is a traditional Portuguese and Italian dessert that is best described as a kind of no-bake Yule log. Many people serve it during the holidays, but I personally think it's ideal to make during warmer months since it only takes 10 minutes to put together and doesn't require an oven.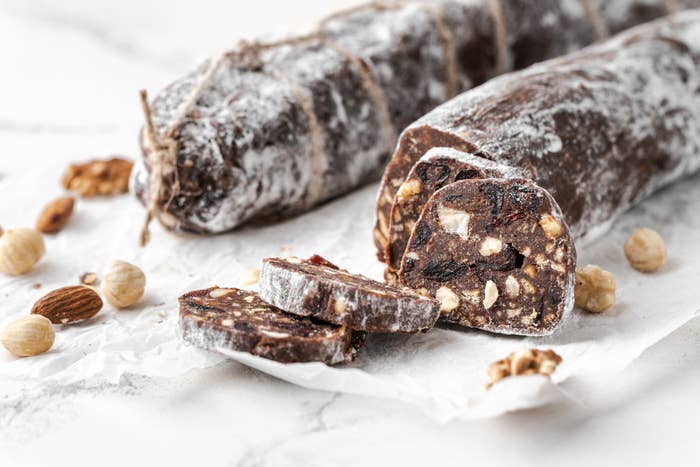 Lately, I've also been seeing a few chocolate salami recipes pop up from all around the world. Countries like Russia, Romania, and Turkey all seem to have their take on this simple dessert. There's even a variation called "lazy cake" that ditches the whole whimsical salami bit and uses a standard cake pan.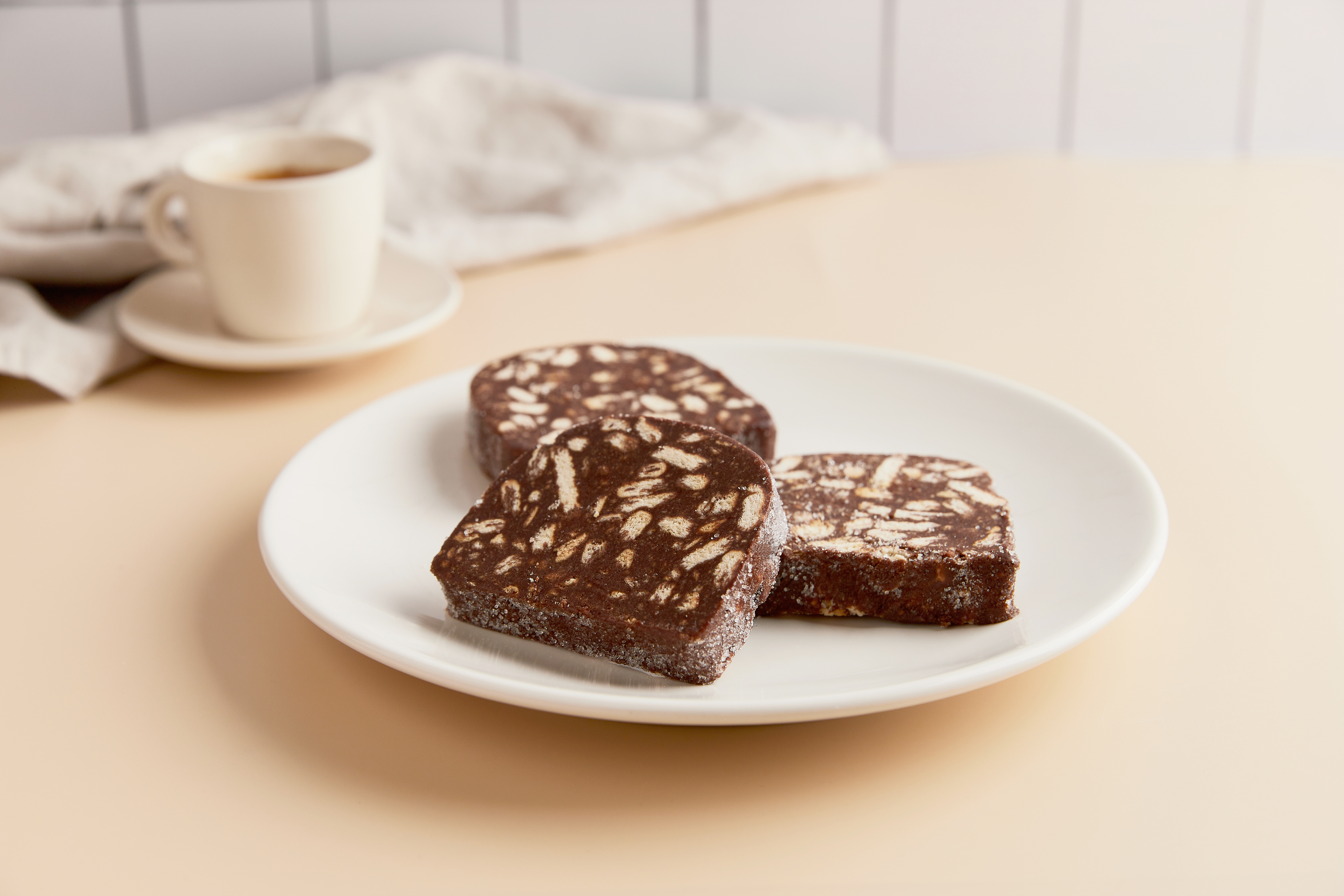 Now that you're chock-full of chocolate salami info, let's break down my/my family's version of it. You'll need powdered sugar, Dutch process cocoa powder, unsalted butter, some sort of plain tea cookie, and salt. Maria cookies are a MUST in the Portuguese version, but something like Digestive biscuits could also work, or even graham crackers if you're in a pinch. The cookies are really just there to help out with texture, not to add any additional sweetness.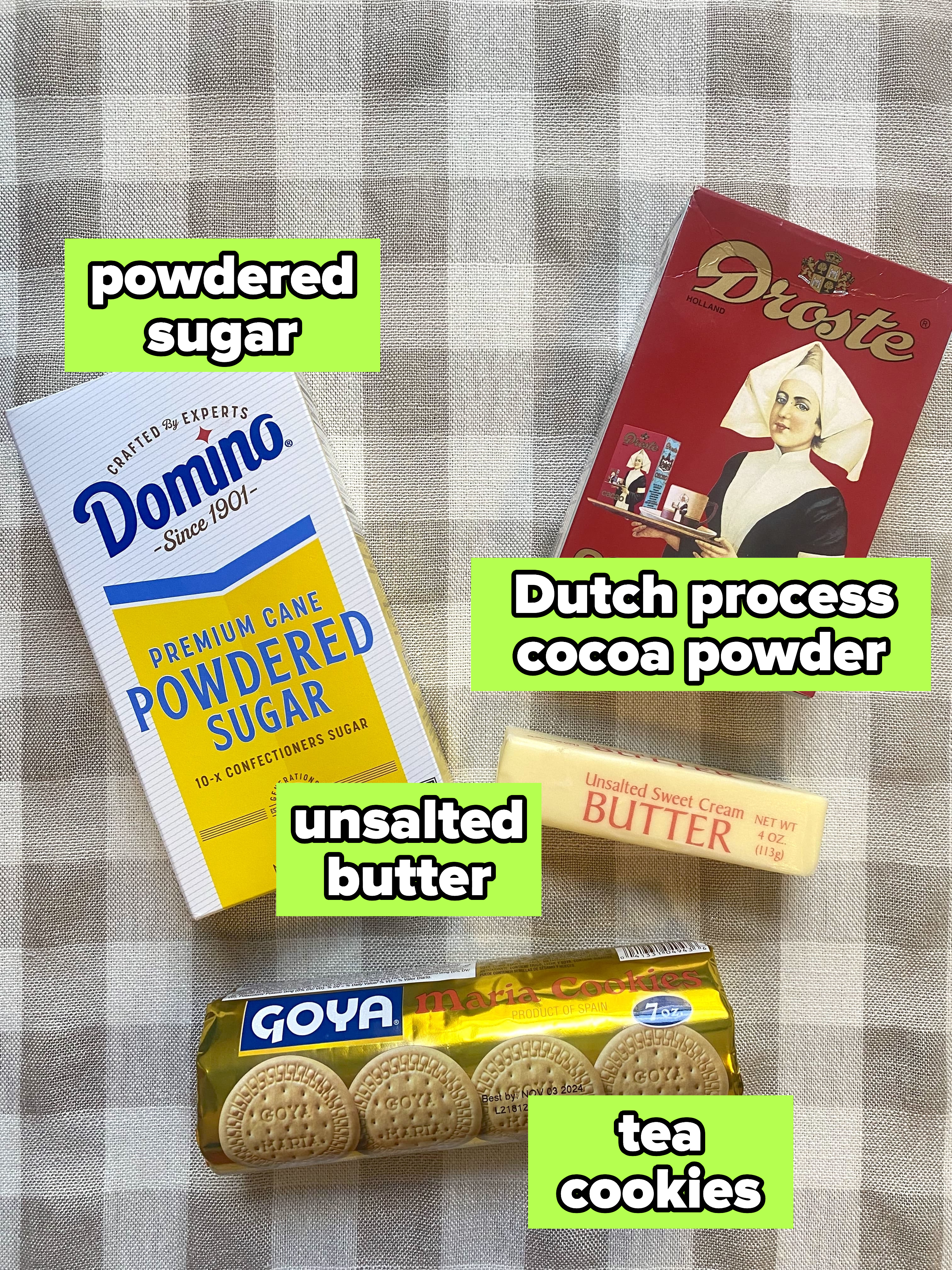 Next, we have a couple of very optional add-ins. I decided to toss in about 1/2 cup pistachios and about two tablespoons of Port wine (Port and chocolate are a match made in heaven), but you can 100% omit these! Like I mentioned earlier, some sort of liquid can be helpful to loosen up the dough, but I've also done it without and it's been fine.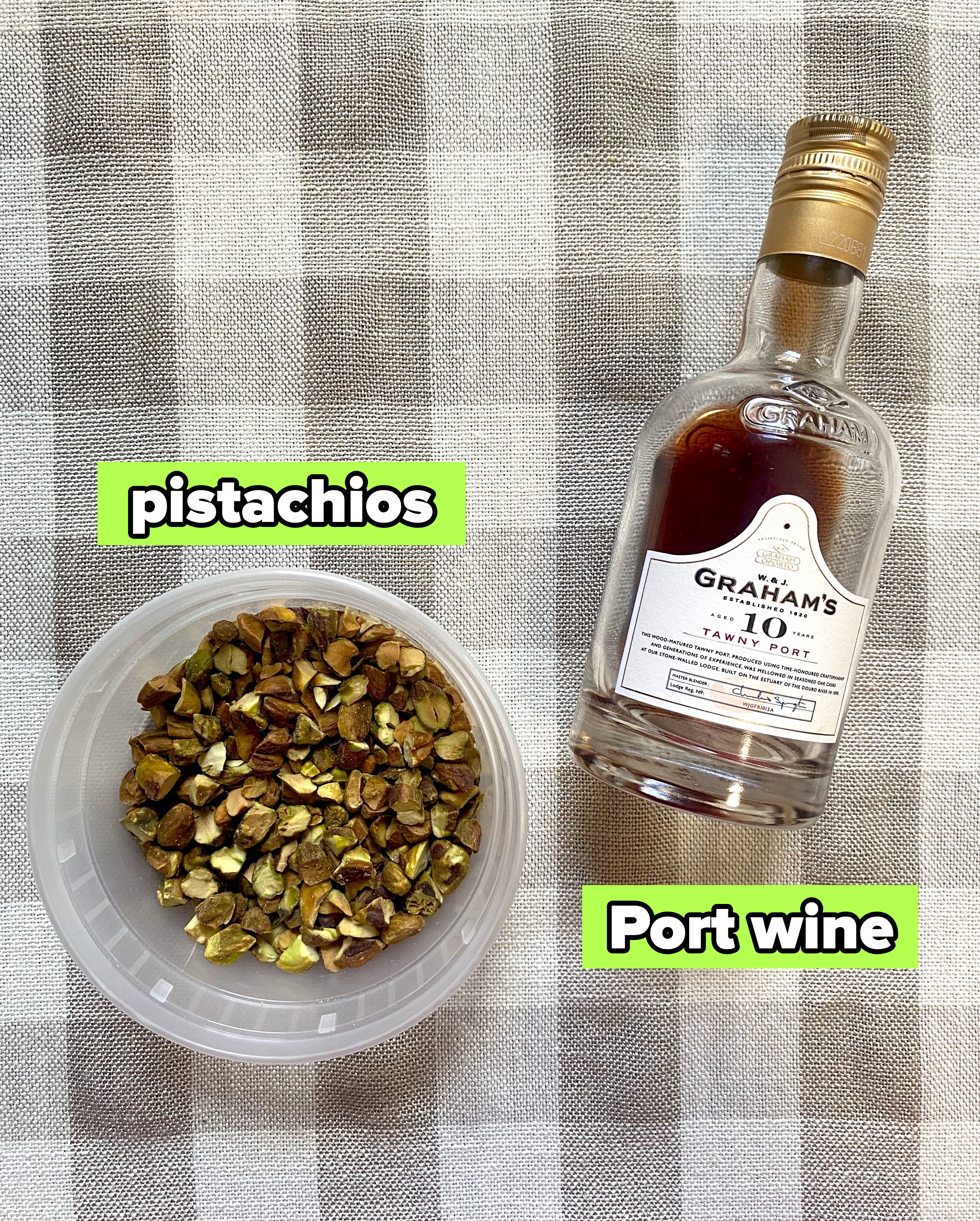 STEP 1: Crush your cookies — you can do this in a plastic bag, or get out any frustration you may have by placing a tea towel over the cookies and hitting them with a rolling pin.
You want relatively medium to large pieces, but it's good to have a mix. The cookies are also really fragile so you can totally just crush them straight into the salami dough if you prefer. They'll start to break apart even more as you mix the dough, so don't stress about how big the pieces may be.
STEP 2: Once you've let your butter come up to room temperature (if you can easily press into it and leave a noticeable divot, your butter is good to go), add it to a large bowl with the powdered sugar and salt. You can mix this by hand, in a stand mixer with the paddle attachment, or with electric beaters. Just make sure everything is combined and smooth.
This is what you should end up with. I found it really easy to just use my rubber spatula to mix everything, so you definitely don't need any fancy tools. It's also the reason I use powdered sugar rather than granulated — it's A LOT easier to mix in by hand.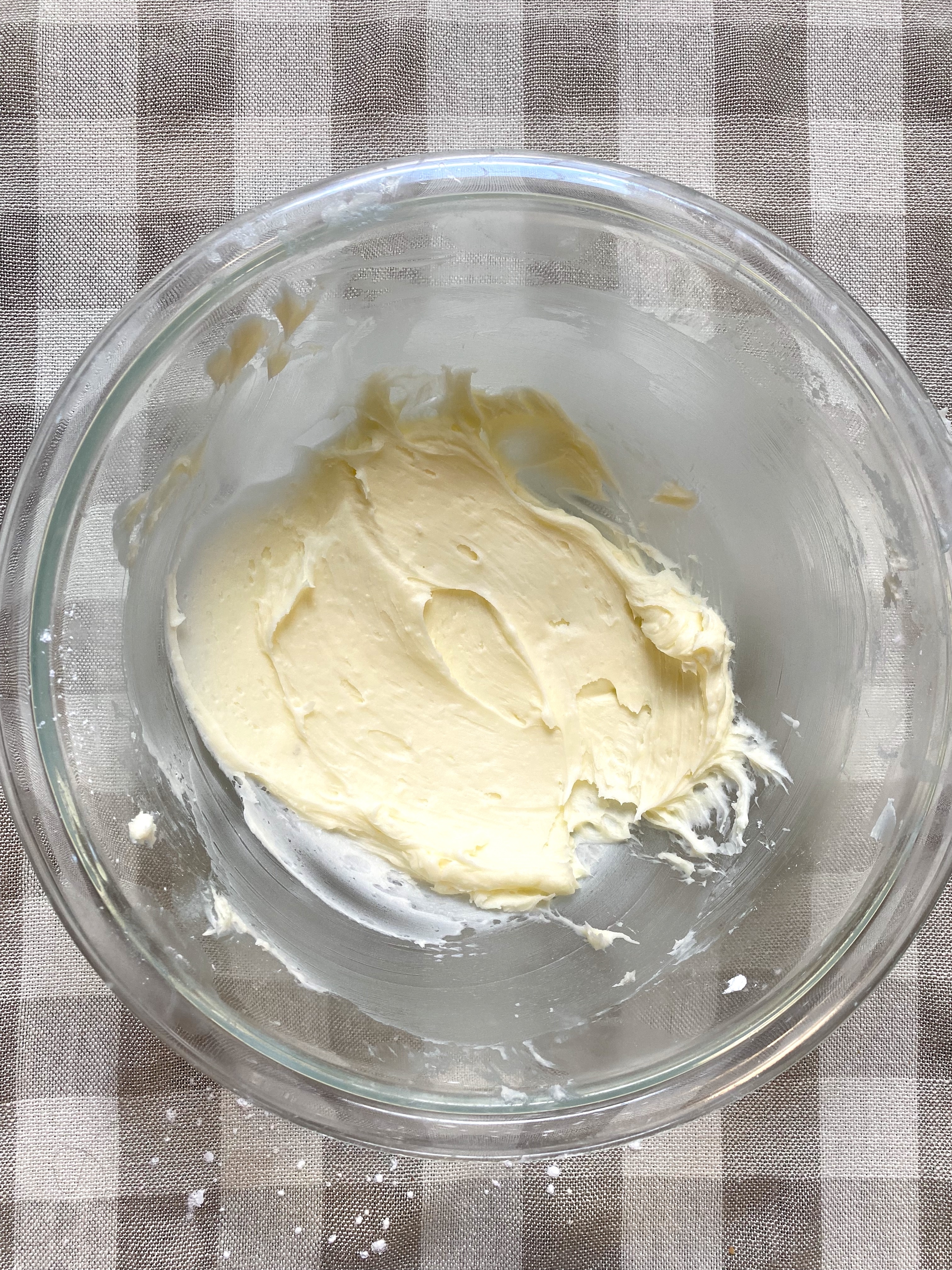 STEP 3: Sift in your cocoa powder and, once again, give everything a good mix until homogenous. I gotta admit, at this point, I was feeling a little lazy and switched to my stand mixer to get the job done. But I'll reiterate that it's definitely not necessary.
STEP 4: If you're using Port or any other liquid, now is the time to add it. I know it doesn't look pretty at this point, but you just have to trust the process. Again, if you're using 1/2 cup cocoa powder, this will be easy to do by hand. Any more than that and I highly recommend letting technology step in. You could also add the liquid at the beginning stage with the butter, but I like to wait until the last minute just to see if my dough needs it.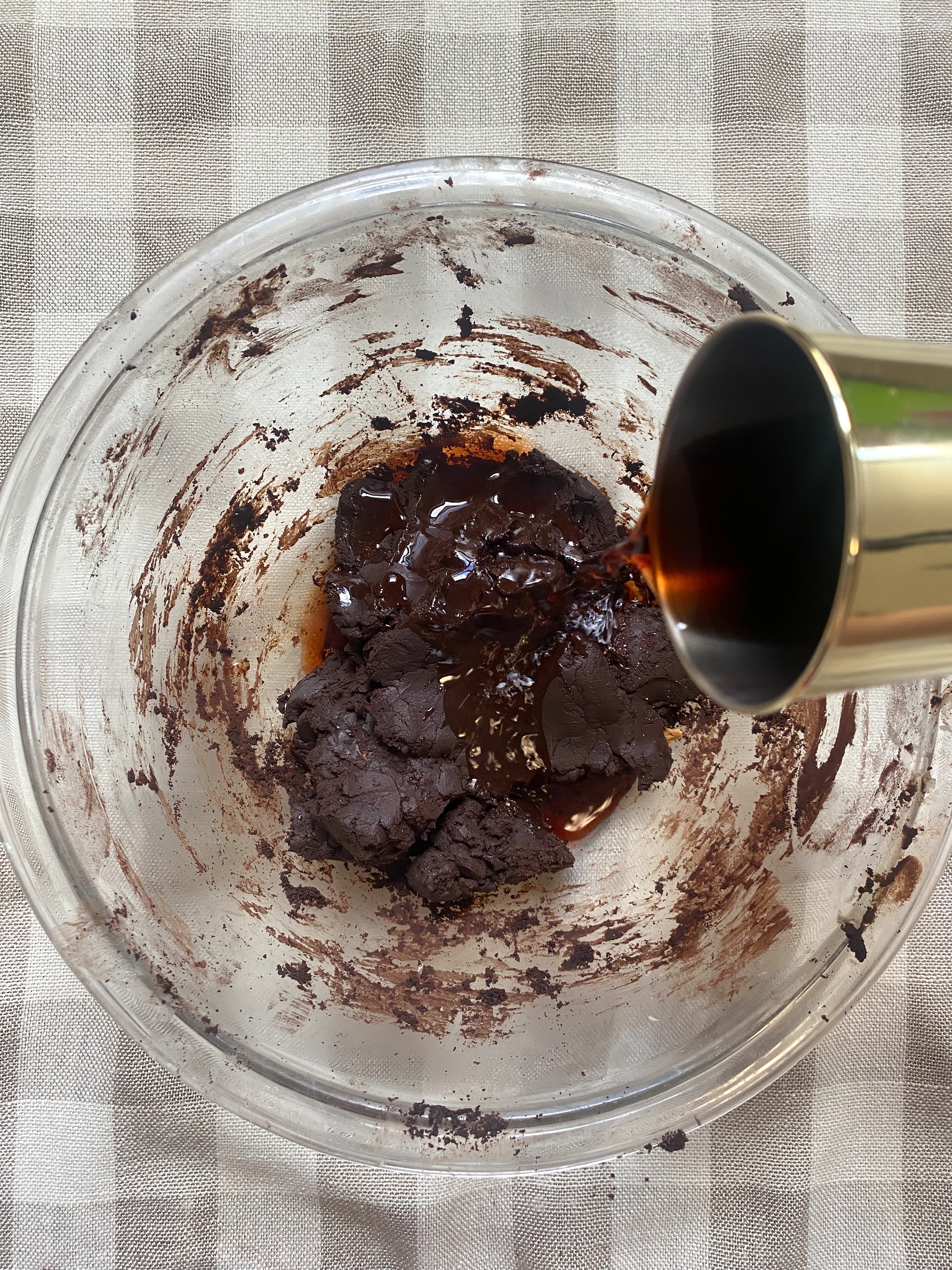 STEP 5: Time to add the mix-ins! Throw in those crushed cookies from earlier and anything else your heart desires (nuts, dried fruit, etc.), and mix everything until evenly distributed. Again, I added pistachios for some additional texture and flavor. You can even use your hands at this point if you're finding it difficult to get everything mixed in.
STEP 6: Now for the fun part and "salami" of it all: shaping. Roll out some plastic wrap (I used two sheets side by side so everything would fit) and dump your mixture on top. Shape it into a log about 10–12 inches long and use the plastic wrap to roll it away from you. If you want a perfect circle, roll it back and forth, continuously running your hands along the log to keep it round.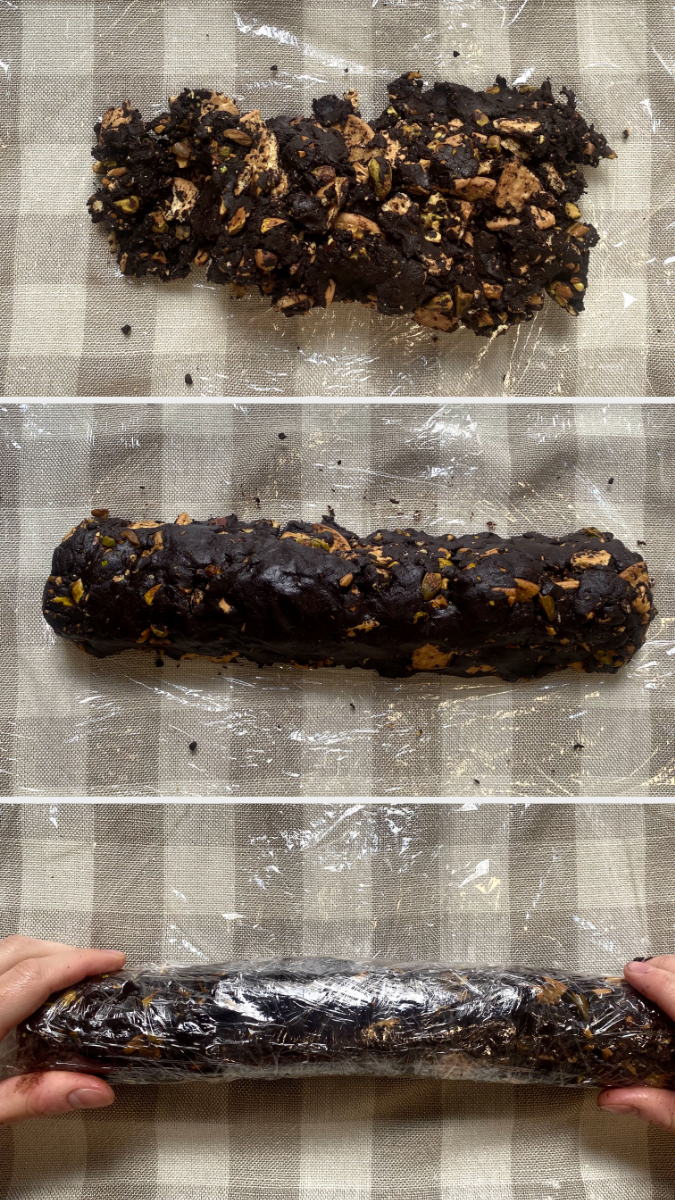 STEP 7: Twist the ends of the plastic wrap (like an actual salami!) and pop the whole thing in the fridge for one to two hours or until solid. It also freezes super well if you're not looking to eat it that same day — just wrap it in a layer of foil.
STEP 8: Once it's out of the fridge/freezer, dust it with a little more powdered sugar and slice into half-inch pieces. I absolutely LOVE slicing this and seeing the "marbling" effect of the nuts and cookies — it makes it look like it took a lot more effort than it did.
Let me know if you give this recipe a shot or if you grew up with your own version of chocolate salami!